Finding Inspiration in the Ordinary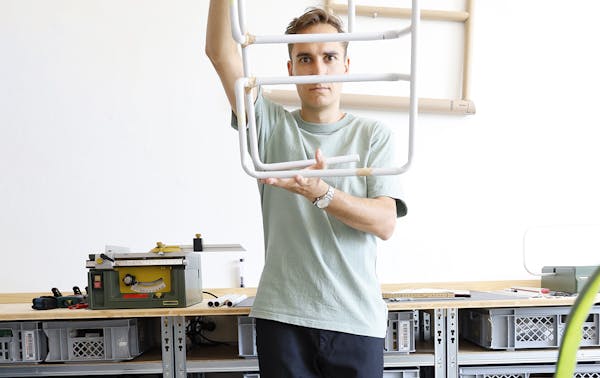 One of the main features of our Toolbike is that it can carry just about anything you might need during the day, whether it's sports equipment, a toolbox or groceries. Zurich-based designer Fritz Gräber helped us create two modular cargo racks to meet most of our urban transportation needs. Valentine met with Fritz in his workshop to learn more about his design process, style, and connection to cycling.
When you meet Fritz, you immediately want to become friends with him. He has the kind of charismatic energy that sparks curiosity and great conversations. We couldn't imagine having a better partner. A partner who not only has a deep passion for his work, but who also sees himself playing a role in building the future of our brand.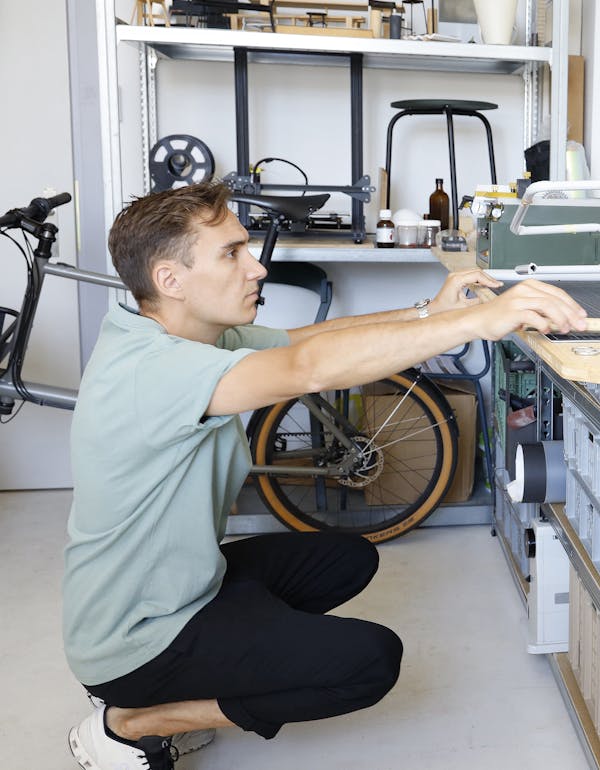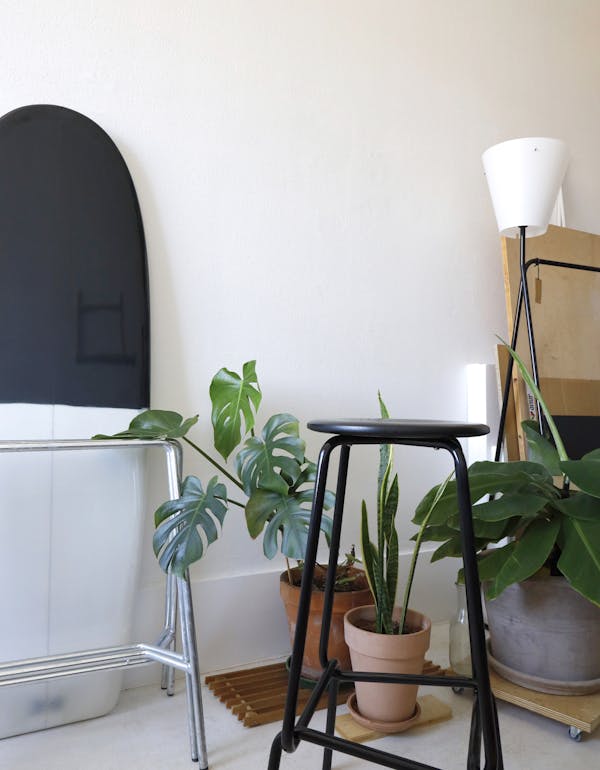 Question Valentine
Tell us a little about yourself and what got you into design.
Answer Fritz
From a young age, I have always been drawn to crafts and loved to do manual work. I was fortunate to attend a Steiner school, which gave me the opportunity to nurture my creativity and explore my interests. A few years later, as a teenager, I was already building furniture and spending a lot of my spare time designing and creating different things.  During those years, my parents started working with an architect to build their own house, and I became deeply interested in the process. So, I first considered studying architecture, but I was a little hesitant because of all the maths, and I was looking for something more hands-on. Then I met a friend who was studying industrial design, and I realized that I could turn my hobby into a career. And that's how I ended up in design.
Question Valentine
Where do you draw your inspiration from?
Answer Fritz
I don't think I draw inspiration from any one specific place, but rather from the everyday spaces around me. For instance, just looking out the window here, I can see a number of elements that could potentially inspire me. For example, there's the bridge where trains pass, with its interesting geometry formed by the round pillars and the large volume resting on top of them. Or there's the way another tube connects to this bench, creating a floating line that ties the pieces together. Everywhere I look, I see shapes and volumes of all sizes and make connections before considering what they might be used for. I believe that if you pay close attention to your everyday surroundings, there is endless inspiration to be found.
Question Valentine
What is one word we could use to describe your style?
Answer Fritz
If I had to choose a few words to describe my design style, it would be proportion, tension and character. I believe that focusing on those adds depth to an object, and I strive to create pieces that reveal their unique qualities when viewed from different perspectives. In my designs, I aim to incorporate elements that change and shift depending on the angle from which they are viewed, inviting the viewer to engage with the object more deeply and discover its hidden details.
Question Valentine
Can you tell us about some of your past and current projects?
Answer Fritz
One of my first major assignments that allowed me to become an independent designer was to redesign the interior of the Greulich Hotel café, which I also got to furnish with some of my own furniture. At the moment, I work on a variety of projects, both on my own and in collaboration with others. Recently, my wife and I designed a lamp that also functions as a coat rack. I have also co-founded a studio with a friend from studies, where we work together on commissions, notably for the brand HAY. And we have just released a collection of outdoor benches and tables with them!
Question Valentine
What is your connection to cycling?
Answer Fritz
I've had a love for wheels and mechanics since I was very young. I was so eager to ride my first motorcycle that I bought it before I turned 18, just so I could legally ride it on my birthday. Recently, biking has become even more important to me. I own a Bullitt cargo bike that I use daily, logging over 2000 km a year as I navigate around Zurich with my kids or transport materials for work. In addition to the practicality of cycling, I also enjoy it as a sport, finding joy and a rush of adrenaline unlike anything I ever experienced from running, for example.
Question Valentine
What about the collaboration with MONoPOLE?
Answer Fritz
I met Nicola about ten years ago, when I was studying at the design school in Zurich. Our meeting felt like one of those instances where you just know that working with someone will lead to something special. Our paths did not cross again until nine years later, when Nicola introduced me to his toolbike, the MONoPOLE, and I was immediately struck by its looks, and its slightly asymmetric, unique frame. Having already experienced the usefulness of cargo bikes, I was immediately interested in the project.
During the design process, I tried to imbue the cargo racks with character while keeping them down to earth. I believe that the items we created have their own personalities and a sense of fragility, even though they can hold a lot of weight. I really enjoy that paradox. The racks are designed to fit the geometry of the bike, and as I worked on them, I was more focused on the overall feeling and expression they would create rather than replicating the existing angles of the bike frame.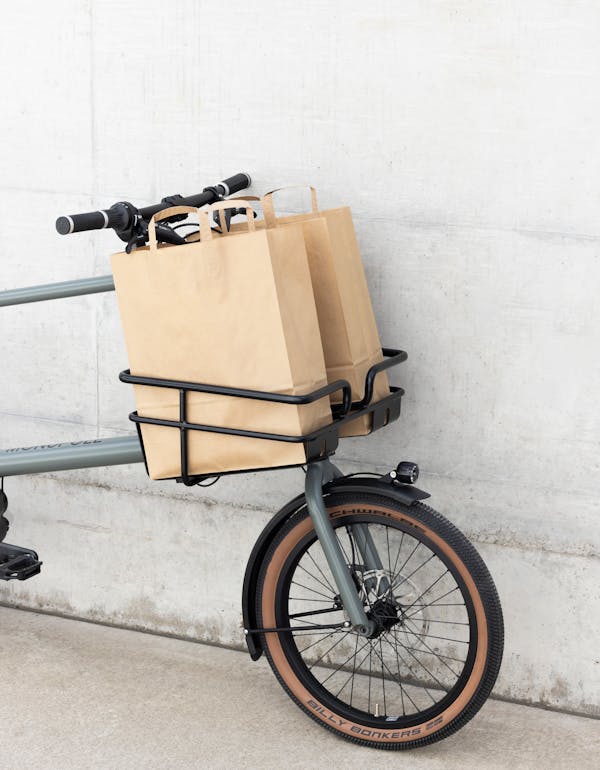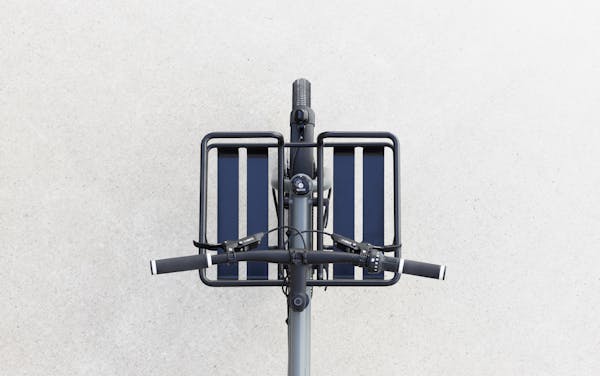 The Shopper cargo rack
«I believe that the items we created have their own personalities and a sense of fragility, even though they can hold a lot of weight. I really enjoy that paradox»
Question Valentine
What is the object you'd like to transport with the MONoPOLE?
Answer Fritz
A chair! This may be specific to my line of work, but I haven't been able to find a convenient way to transport chairs with a cargo bike yet. Finding a way to transport kids with the MONoPOLE would also be a nice challenge to take up, and also incorporate a bit of magic into the way we click the bags onto the racks.  I'm really looking forward to continuing to work with Nicola and the team to expand the capabilities of the MONoPOLE to meet a wider range of needs.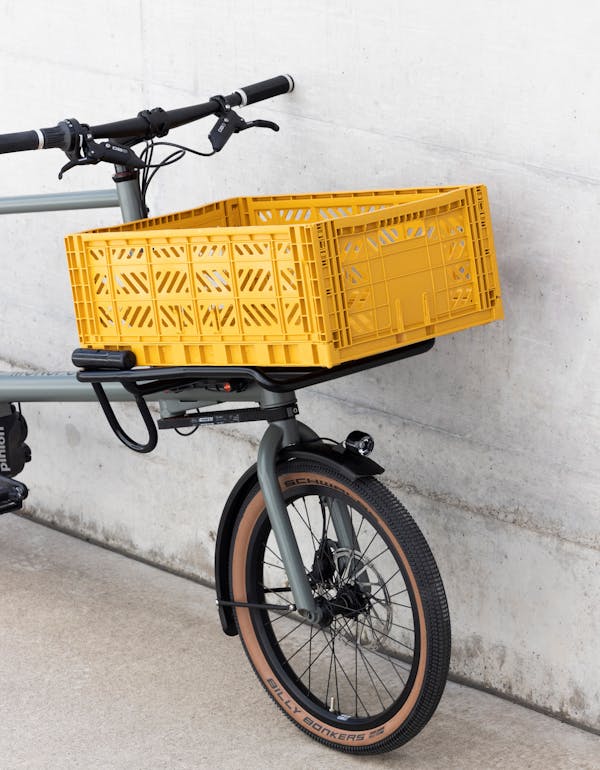 The Platform cargo rack
Question Valentine
In your opinion, what is the role of design in the transformation of urban mobility?
Answer Fritz
I think design has great potential to make cities more accessible, efficient and sustainable. Good design significantly improves the user experience, and a crucial aspect for me in this context is safety. I think everyone is more attracted to an object that feels safe. Unfortunately, fear, still keeps many people from riding bikes in the city. With good design, you have the power to remove a lot of the fear, make cycling more attractive in cities, and transform urban mobility for the better.